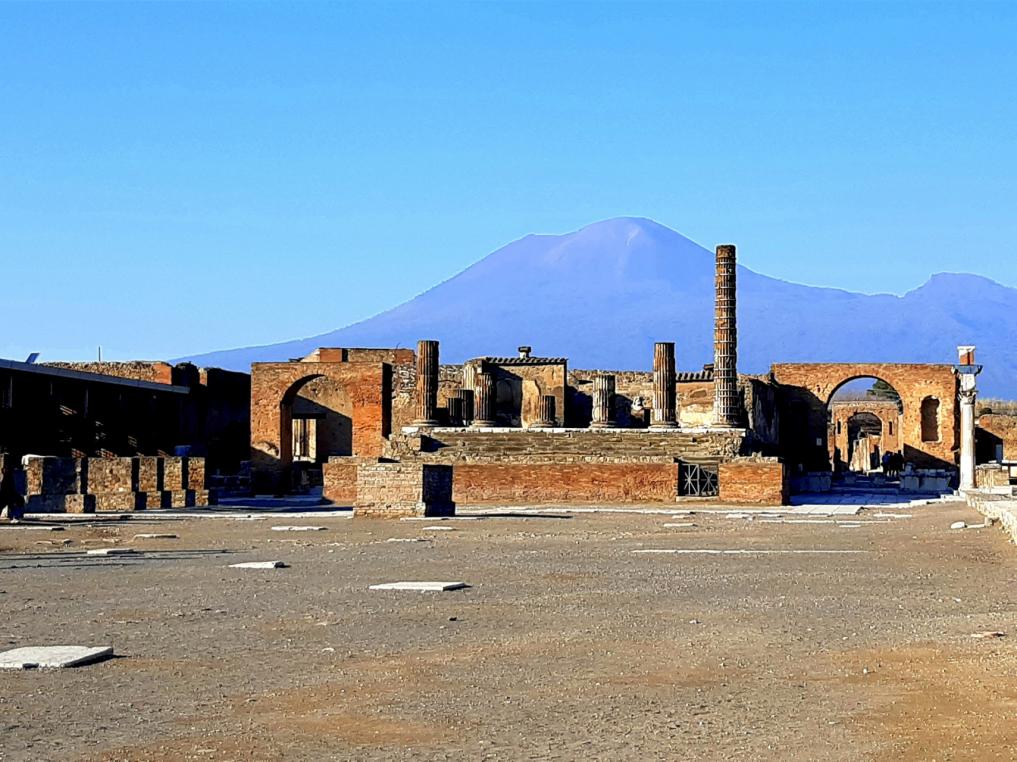 Drive Tour
Pompeii Ruins and Sorrento
Duration:
6 hours (Approx)
Reserve Now
Tour Description
POMPEII
With all three of these most fascinating places in close proximity to each other, it is possible with the aid of alca private driver to see them all in a one-day tour. Pompeii of course was the great Roman city, which was covered in ash when Mt Vesuvius erupted in 79AD. Much of the buildings or focal points of the town are still visible and with the help of a guide on a private tour, it is easy to imagine Pompeii as it was once upon a time, visiting the Pompeii Ruins is a must in your agenda. The site of Pompeii, the petrified memorial to Vesuvius's eruption in 79AD is the largest, most accessible, and probably most famous excavation. A busy commercial center with a population of 10,000–20,000, today it's choked with both the dust of 25 centuries and more than 5 million visitors every year; only by escaping the hordes and lingering along its silent streets can you truly fall under the site's spell. On a quiet backstreet, all you need is a little imagination to picture life in this ancient town.
SORRENTO
The gateway to the Amalfi coast, Sorrento is a microcosm of everything that makes a trip to Italy a picturesque and very personal experience.
The region is perfect for taking a road trip with a private driver or even a limo tour with many truly memorable coastal routes that wind their way along some of Southern Italy's most spectacular scenery. Panoramic views of the mountains and spellbinding views over the ocean are common, while quaint villages provide a local feel and then the town itself is perfect as a base for exploring the local attractions.
The center of town is quite a small place in comparison to its reputation and the number one activity on a tour to Sorrento is usually exploring the sights on foot. Many beautiful ancient churches line the streets such as the Covent of San Francesco and some equally fascinating museums with the Museo Correale's collection being a particular favorite. Idyllic beaches are also a short distance from the town and there are several hiking trails for anyone wanting some extra adventure or exertion.
But the one thing that should not be missed is a tasting of the finely made limoncello. This lemon liqueur is a local favorite and there are many different flavors in which to indulge.
From Sorrento it is easy to take a private day trip to the Amalfi coast, waiting patiently to be explored for those who want the full experience. The villages along the coastal route make for dramatic scenery and there are many desirable towns dotted along the peninsula which make this a "must do" in terms of what so see in this part of the Italy or for anyone interested in taking a shore excursion.
Pompeii, Sorrento in brief:
* Alcaexcursions private driver speaking English will meet/pick up at your Hotel/Accommodation and after a brief presentation, you will be accompanied to your luxury and licensed Mercedes vehicle for to start this lovely tour.
*We will drive to Pompeii where we will make our first stop (2h) alca will leave you right at the entrance of the ruins.
*Once visited Pompeii, you'll continue driving for about 45 minutes until to reach the second destination of the day the beautiful Sorrento where you will another 2 hours for discover this lovely and historic town.
*Then your chauffeur will meet you in the main square "Piazza Tasso" ready to drive the return to your accommodation
*Total duration 5 hours
IMPORTANT NOTES:
Please kindly note that your driver will be at your complete disposal for the entire time, personalizing your sightseeing tour in order to offer you the best possible experience; in our tour descriptions you can read the highlights of each location, but of course you can discuss the itinerary with your driver and the timing between each place which might be subject to change (traffic - weather conditions).
*If you are interested to have a special stop for lunch during your tour, please email us to book you in advance, or you can discuss with our local drivers they can equally recommend some good restaurants as eating well in the Sorrento area is easy.
*Informative and fun, you'll learn about the life of the wealthy in Roman antiquity as you stroll through the intriguing ruins. Don't forget to dress appropriately for this excursion, as the streets are  cobbled and the summer temperature can be extreme. Quality walking shoes and a hat or umbrella should suffice.
Highlights
The ruins of Pompeii
Archeological excavations
Sorrento visit
*Entrance Fees and Times
Open 08.30 AM - 6.00 PM
What's Included
Luxury air conditioned
English speaking driver
Photo stops
Stop in Pompeii
Stop in Sorrento
All taxes, parking tolls, gasoline, driver maintenance
Wi-Fi on board
Waters
Refreshing wipes
Not Included
Meals and drinks
Entrance fees to Museums, Churches, Monuments
Guides in sites
Gratuities
Additional Information
Guide for Half Day: 120 € (2 hours). Guide for Full Day: 250 €.
We can arrange a 2 hrs private guided tour of the sites.
Maybe you will be interested also in: