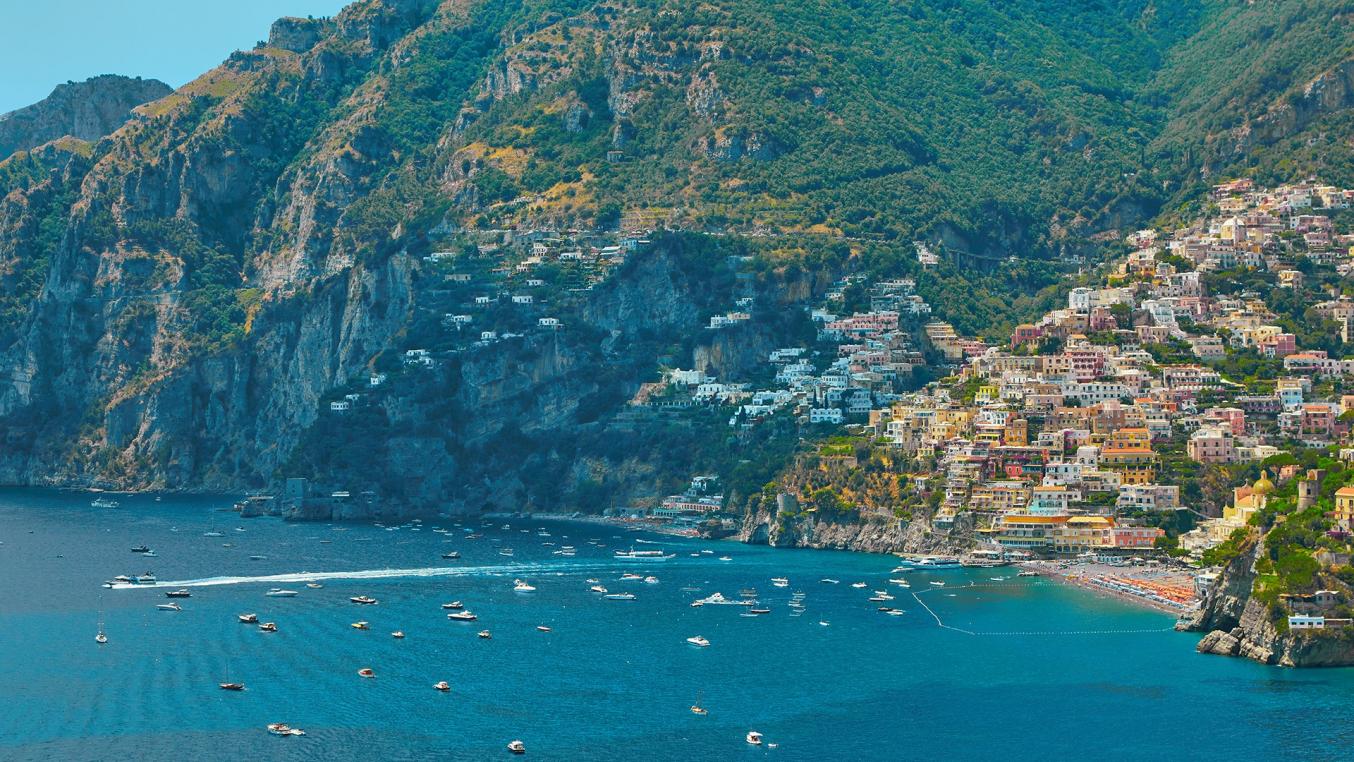 Excursion from Port
Half Day in Positano
Duration:
6 hours (Approx)
Reserve Now
Tour Description
Positano is the coast's most picturesque and photogenic town, with vertinigous houses tumbling down to the sea in a cascade of sun-bleached peach, pink and terracotta colours. No less colourful are its steep streets and steps lined with wisteria-draped hotels, smart restaurants and fashionable boutiques, about the place The fashionista history runs deep – moda Positano was born here in the '60s and the town was the first in Italy to import bikinis from France.
John Steinbeck visited in 1953 and wrote in an article for Harper's Bazaar: 'Positano bites deep. It is a dream place that isn't quite real when you are there and becomes beckoningly real after you have gone'.There certainly is something special about the place and this is reflected, predictably, in the prices, which tend to be higher here than elsewhere on the coast.
ITINERARY OF A DAY IN POSITANO
The half-day tour in Positano is the perfect solution for people who are interested in enjoying deeply this little jewel of the Amalfi Coast, alca will pick up you at 9am (time suggested) and we will drive through the scenic road ss163, built during the Bourbon period to connect the thirteen beautiful towns that make up the coast.during the ride, it will be possible for you to stop and immortalize the unique views of the Amalfi Drive ! Upon arrival in Positano (around 10am),you will have approximately 3 hours of free time to explore the old town on your own with its little alleys, cascading tiny streets and variety of countless shops and elegant boutiques selling summer wear, lightweight linens, handmade sandals, and accessories, as well as ceramics and souvenirs of all sorts, where no cars circulate,After the walk and after going down the 12 steps leading to the main beach of Positano opposite the Santa Maria Assunta Church, with her characteristic colourful majolica dome where you will find the icon of the Black Byzantine Madonna dating back to the 18th century, we will arrive on the beautiful promenade "called marina grande" the most cosmopolitan beach located around Amalfi & Sorrento coast,enjoy to take a stroll
or, if you have brought the costume with you you can also take a dip in the crystal clear waters of the Mediterranean ! after your free time exploring the center and positano beach, it's impossible not to end this visit with a lunch..and positano is the perfect place to enjoy a classic Italian meal and wine. Yes, positano restaurants are some of the best places to eat in ALL of Italy. Bold statement, we know..What's not to love? you're undecided which one to choose/go ? no problem,alca will suggest the most suitable for your needs, we have a nice selection of what we consider the best restaurants on the Amalfi Coast (whether it's on the beach or in the mountains)
The tour of positano with lunch will eventually finish at 2pm with your relaxing return in sorrento.
Amalfi Coast Tour in brief :
* Alcaexcursions private driver speaking english will meet you where your cruise ship will be docked and will be easy recognizable due to due to the sign on which will be written your name and our agency logo.After a brief presentation,you will be accompanied to your luxury and licensed Mercedes vehicle for to start this lovely tour.
*We will drive through the scenic road Amalfi ss163 and it will be possible for you to stop and immortalize the unique views of the Amalfi Drive.
*once arrived in positano the alcaexcursions driver will drop off you in the center and from there you can go walking around and explore,Positano is also a shopper's paradise.,you cand find bespoke leather sandals , one-of-a-kind pieces of antiques big and small, Vietri ceramics handmade, or traditional Positano Moda clothing..enjoy your free time in positano.
*The return driving to your port where your ship it's located will be in time and in absolute comfort.
*Total duration 8 hours
IMPORTANT NOTES:
Please kindly note  that your driver will be at your complete disposal for the entire time, personalizing your sightseeing tour in order to offer you the best possible experience; in our tour descriptions  you can read the highlights of each location, but of course you can discuss with your driver the itinerary and the timing between each place which might be subject to change (traffic - weather conditions).
*If you are interested to have a special stop for lunch during your tour,please email us for to nook in advance,or you can discuss with our local drivers they  can recommend some good restaurant equally,eating well on the Amalfi Coast is easy.
Maybe you will be interested also in: