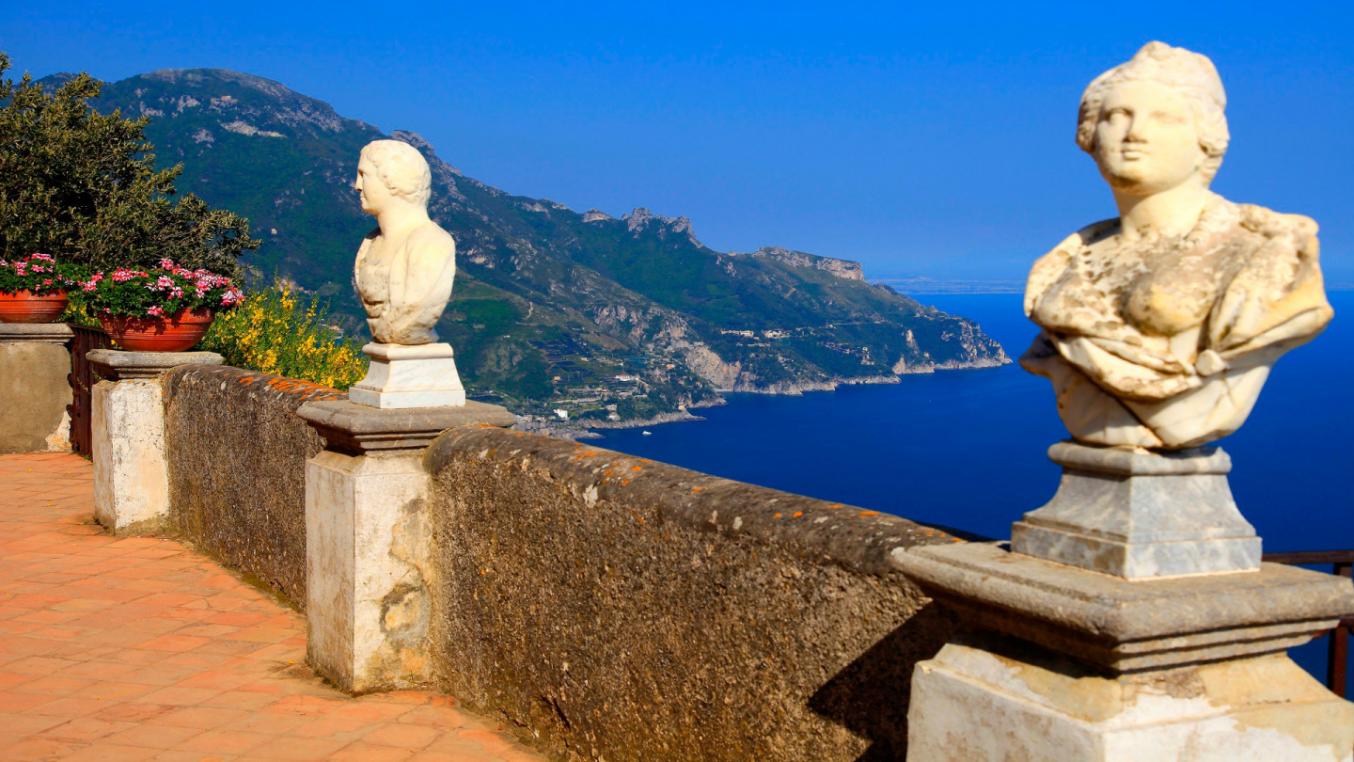 Excursion from Port
Private Ravello - Half Day
Duration:
6 hours (Approx)
Reserve Now
Tour Description
Tour Description
THE LITTLE TOWN ON THE HILL: RAVELLO IS THE BEST KEPT SECRET OF THE AMALFI COAST 
Ravello is located on the top of a hill, overlooking the Amalfi Coast. While it may not have the added bonus of being a short walk to the beach, Ravello certainly holds some of the best views on the coast. So scenic in fact, that the town gained UNESCO World Heritage status in 1997.
While it is a very popular small town in it's own right, a day tour to Ravello is a great way of seeing a local piece of rural Italy along with some exquisite countryside in Italy and a typical small town dramatically situated on a cliff side.
Ravello It is often referred to as the most charming town whens tourists visit the Amalfi coast and with good reason. Ravello feels a little more cut off from the rest of the world and this is in no small way due to the precarious nature at which is lies so high up.
It makes for dramatic scenery but the town is small, ideal for walking and although the paths which lead down to the coast are very steep, they make a nice hike for those who have the energy. Ravello is quiet, the streets have many nice little restaurants and dainty shops.
If you are taking any private tours in Italy and want to see somewhere a little less busy with tourists, Ravello is a nice option and the fact that you don't need to travel so far means a lot more time to explore the actual destination. The drive is scenic on the way up but many will not fancy having to do the driving themselves and if you would prefer to avoid the inconvenience of taking the local buses, a private driver is likely to be the best way to visit Ravello.
What to see in Ravello:
Duomo di Ravello – located at the centre of Ravello facing the main square.
Villa Rufolo – featuring an incredible garden with views that are hard to beat.
Villa Cimbrone – a five star hotel that is commonly regarded as one of the most prestigious on the coastline.
Babel wine bar – a great little wine bar with tapas style eats.
L'antica Cartiera – an upscale restaurant with sweeping views of the Amalfi coast.
Ravello Half Day in brief :
* Alcaexcursions private driver speaking english will meet you where your cruise ship will be docked and will be easy recognizable due to due to the sign on which will be written your name and our agency logo.After a brief presentation,you will be accompanied to your luxury and licensed Mercedes vehicle start this lovely tour.
*We will drive through the scenic road Amalfi ss163 and it will be possible for you to stop and immortalize the unique views of the Amalfi Drive.
*The drive until to Ravello will be long about 1hour and 30 minutes where we will make our stop (2h)
*The driving of return to your port where your ship it's located will be in time and in absolute comfort.
*Total duration 6 hours
IMPORTANT NOTES:
Please kindly note  that your driver will be at your complete disposal for the entire time, personalizing your sightseeing tour in order to offer you the best possible experience; in our tour descriptions  you can read the highlights of each location, but of course you can discuss with your driver the itinerary and the timing between each place which might be subject to change (traffic - weather conditions).
*If you are interested to have a special stop for lunch during your tour,please email us for to nook in advance,or you can discuss with our local drivers they  can recommend some good restaurant equally,eating well on the Amalfi Coast is easy.
Maybe you will be interested also in: