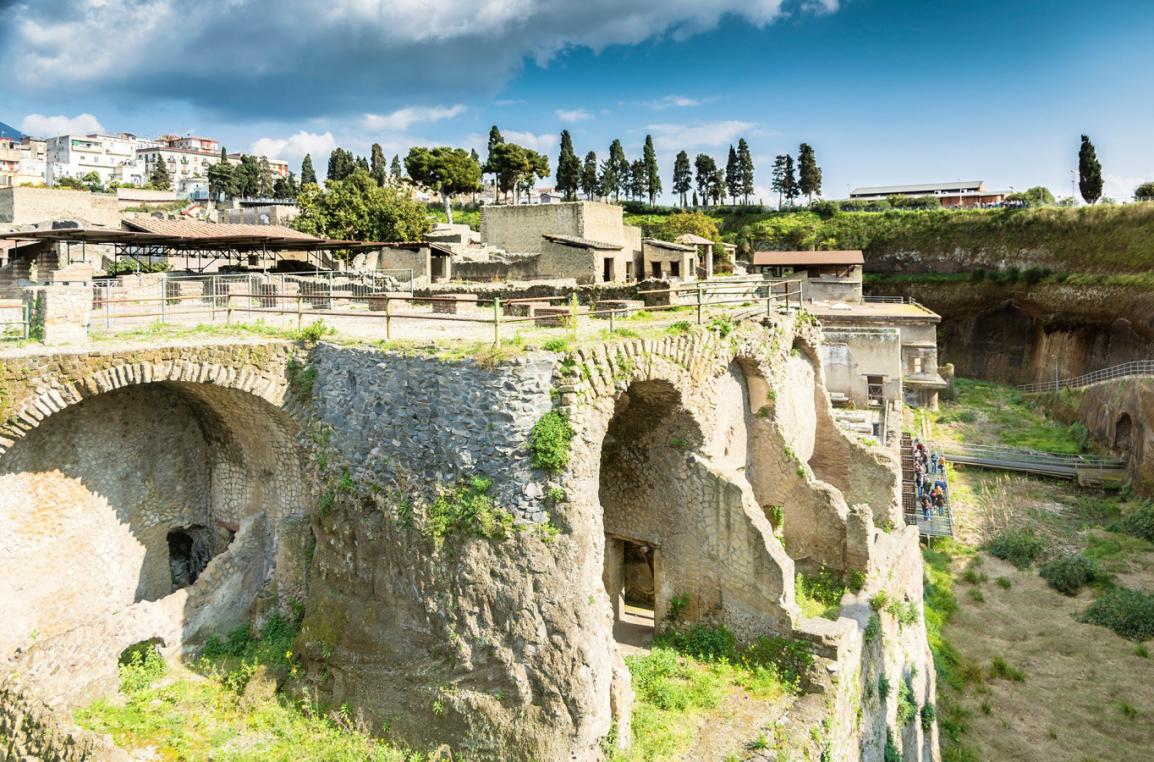 Excursion from Port
Private Herculaneum-Half- Day
Duration:
5 hours (Approx)
Reserve Now
Tour Description
Tour Description
HERCULANEUM
As opposed to Pompeii, it's possible to visit all of Herculaneum in just a few hours. The archaeological park is ideal stop for those who have limited time but want to experience the thrill of walking in the footsteps of the ancient Romans!
Herculaneum has been preserved like no other site in the world, not even nearby Pompeii. The city was buried beneath 16 meters of ash and mud during the eruption of Mount Vesuvius in 79 AD, and this layer of detritus saved two-story domus homes with the internal architecture and décor intact, including features in wood and marble, decorations, jewelry, and even organic remains like food, providing a unique view into the daily lives of the ancient population of Herculaneum.
History of Herculaneum
Herculaneum is named for the mythical Greek god, Hercules, who, according the legend told by Dionysius of Halicarnassus, founded the city in 1243 BC. Historic analysis, however, suggests that the city was founded by the Oscans or the Etruscans in the 7th century BC , conquered by the Samnites in the 5th century BC. In 90 BC the city was dominated by Rome and transformed into a municipium. In the final years of the Roman Republic, Herculaneum reached the height of its splendor thanks to its coastal location, clean air, and mild climate, making it a popular resort town for many of Rome's patrician families. The city was vibrant and densely populated when the earthquake struck in 62 AD, causing serious damage; work to rebuild the city was still going on when the tragic eruption of Mount Vesuvius happened in 79 AD.
The cloud of toxic gases from the eruption wiped out the inhabitants, while the entire city was literally sealed under a flow of ash and volcanic rock 16 meters deep that solidifiedi, preserving almost perfectly intact organic remains like fabric, food, vegetation, and wooden structures.
The town was buried beneath the mud until the 18th Century when King Charles decided it was time to excavate the area to see what lay beneath. Remarkably the mud helped preserve the foundations of most of the buildings and so today, unlike Pompeii, it is possible to take tours of this ancient city and get a good idea what it was like way back then.
It's simply fascinating to walk through these streets,the thermal baths, the forum, the gymnasium and many residential houses; it would almost be impossible to believe any of it is real, only for the fact that you are now seeing it with your very eyes. Herculaneum is is arguably the best preserved Roman town you can see on tours in Italy and a uniquely interesting journey for anyone visiting Naples or anywhere nearby.
 Herculaneum Tour in brief :
* Alcaexcursions private driver speaking english will meet you where your cruise ship will be docked and will be easy recognizable due to due to the sign on which will be written your name and our agency logo.After a brief presentation,you will be accompanied to your luxury and licensed Mercedes vehicle for to start this lovely tour.
*We will drive to Herculaneum where we will make our  stop (3h) alca will leave you right at the entrance of the ruins.
*The return driving to your port where your ship it's located will be in time and in absolute comfort.
*Total duration 5 hours
IMPORTANT NOTES:
Please kindly note  that your driver will be at your complete disposal for the entire time, personalizing your sightseeing tour in order to offer you the best possible experience; in our tour descriptions  you can read the highlights of each location, but of course you can discuss with your driver the itinerary and the timing between each place which might be subject to change (traffic - weather conditions).
Please contact us for further information. We'll be glad to customize your experience to your needs.
*If you are interested to have a special stop for lunch during your tour,please email us for to nook in advance,or you can discuss with our local drivers they  can recommend some good restaurant equally,eating well in Naples area is easy
*Informative and fun, you'll learn about the life of the wealthy in Roman antiquity as you stroll through the intriguing ruins,and no forget to dress appropriately for this excursion, as walks tend to be cobbled and the summer temperature can be extreme. Quality walking shoes and a hat or umbrella should suffice.
*Entrance Fees and Times
Herculaneum - 11 Euros
Open 08.30 AM - 6.00 PM

EXTRA SERVICES (ON REQUEST)
Guide for Half Day: 120 € (2 hours). Guide for Full Day: 250 €.
 
Maybe you will be interested also in: